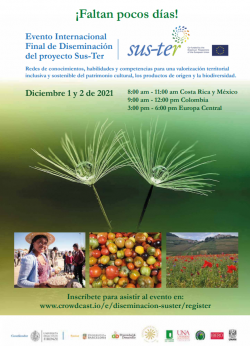 Evento Internazionale di chiusura Progetto SUS-TER
Nei giorni 1 e 2 dicembre si terrà, in modalità virtuale, l'evento internazionale di chiusura del progetto SUS-TER "Networking Knowledge, Skills and Competencies for an Inclusive and Sustainable Territorial Valorization of Cultural Heritage, Origin products and Biodiversity,  realizzato nell'ambito del programma Erasmus+ Capacity building in the field of Higher Education dell'Unione Europea.
SUS-TER è coordinato dall'Università di Firenze (prof. Giovanni Belletti, DISEI, coordinatore scientifico; prof.ssa Silvia Scaramuzzi, DAGRI, project manager) e vede la partecipazione di Universidad de Barcelona (España), Universidad de Caldas e Universidad del Quindio (Colombia), Universidad Nacional e Universidad de Costa Rica (Costa Rica), Universidad Iberoamericana e Universidad Nacional Autónoma de México (México), e della organizzazione Diversidad y Desarrollo, oltre che di organizzazioni internazionali quali FAO, UNIDO, WIPO e Slow Food International quali membri associati.
Il progetto ha permesso di sviluppare un'offerta formativa in grado di rafforzare conoscenze e competenze per l'animazione e la gestione dei processi di valorizzazione territoriale del patrimonio bioculturale, mediante l'elaborazione di un profilo formativo di Dinamizzatore territoriale.
L'evento permetterà di condividere i traguardi raggiunti, le sfide e le possibili strategie per valorizzare i risultati ai fini di uno sviluppo territoriale rurale inclusivo e sostenibile. L'evento si concluderà con un concerto che unirà i territori dove si è svolto il progetto, dal Caribe all'Appennino. Sarà presente un gruppo musicale della Garfagnana, uno dei territori laboratorio selezionati.
Data: 1-2 dicembre 2021
3:00 pm – 6:30 pm CET
Qui il programma dell'evento: invitacion y agenda 2.
Per iscriversi e ricevere il link per partecipare:  https://www.crowdcast.io/e/diseminacion-suster/register.