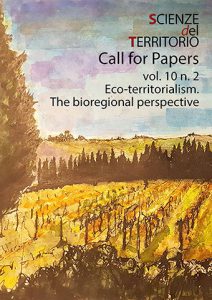 Gli articoli dovranno essere trasmessi – mediante inserimento sulla piattaforma online dedicata, accessibile previa registrazione da
https://oajournals.fupress.net/index.php/sdt/about/submissions
– entro il 31 Maggio 2022 e saranno sottoposti all'abituale procedura di revisione tra pari in doppio cieco. Potranno essere accolti testi in lingua italiana, francese, inglese o spagnola solo se dotati dei requisiti sostanziali e formali indicati nella Call. Nella loro redazione, pena l'esclusione, gli autori dovranno attenersi strettamente ai criteri redazionali specificati nelle linee guida (scaricabili da www.societadeiterritorialisti.it/wp-content/uploads/2021/10/SdT_SubmissionGuidelines2022-IT.pdf), con particolare riferimento alla parte relativa all'oscuramento dei dati personali, e somministrare testi completi di ogni elemento addizionale ivi richiesto.
Trovate in fondo alla pagina il testo completo della Call in versione italiana e inglese, ciascuna con il link alle linee-guida editoriali nella lingua pertinente.
Please find below the full text of the Call in Italian and English version, each one with the link to submission guidelines in the relevant language.
For further information: rivista@societadeiterritorialisti.it.
.